A Busy Year
At Turning the Tide it has been a very busy 2015, re-locating from our home since 2003 on 11th St. to a few blocks up Broadway at 615 Main Street.  Here we have partnered with the Treaty 6 Justice Collective and established The Stand – Community Organizing Centre; a place to support collective efforts advocating for social, environmental, and economic justice in our community. We opened our doors at the end of June and our relocation was a big success thanks to the incredible support from the community through our Indiegogo campaign which raised over $20,000 for renovations and equipment!
Our new space has already provided meeting and co-working space for our community, while we continue to maintain and grow the unique collection of books and merch that has always been a staple at the Turning the Tide bookstore. We have hosted several book launches, a travelling art and hop hop show, a community concert rehearsal, organizing meetings, presentations, a university class, a television show recording, and a book club. We look forward to an action-packed 2016.
---

Grand Opening with Guy Vanderhaeghe
Saturday, December 5
Please join us as we show off our new digs. Browse some books. Take a tour. Hear from the organizations who are already using the space. Pick up your crowdfunding perks. Hear one of Canada's most celebrated authors Guy Vanderhaeghe read from his new book "Daddy Lenin."
Schedule
1:30 pm: Launch of 'The Stand Community Organizing Fund' with special presentations by community organizations. Media and public invited.
2 – 4 pm: Open house, Tours of meeting and working space
7:30 – 9:30 pm: An intimate evening with Guy Vanderhaeghe, three-time winner of Governor General's Literary Award.
Food, refreshments, and a reading from "Daddy Lenin."
Evening seating is limited at 35. Please secure free tickets by reserving them here.
Donations to the Community Organizing Fund will be accepted at the event.
For more information, contact: TheStandCentre@gmail.com, 306.229.2230. www.TheStandCentre.ca
 Great Gift Ideas
The Stand

T-shirts & 11th Street Memorabilia
Limited edition ethically sourced and printed bamboo/cotton blend The Stand T-shirts and some amah-zing  Merry Mansion prints by local artist Dave Geary are available for the nostalgic 'Tooner. 
Merry Mansion 12″ by 12″ digital print $25.00
Merry Mansion 19″ by 25″ 2-colour silk-screened print $75.00
The Stand t-shirt $25.00
---
DVD rentals
Expand your mind with a documentary from our explicitly curated collection, binge watch your weekend through entire TV or film series, or relax and unwind with a friend. Choose from over 2000 film titles including the most complete collection of critically-acclaimed films available in Saskatoon. A our new unlimited-rental Movie Club or 10-Rentals card makes the perfect gift! 
10-Rental card $20.00
Plan 1 (2 movies-at-a-time) – 3 Month Unlimited Membership – $45.00
Plan 2 (5 movies-at-a-time) – 3 Month Unlimited Membership – $60.00
Previously Viewed DVD BLOWOUT Sale!!!
Check out the exciting array of DVD's culled from the collection at discounted prices. Over 500 titles!
---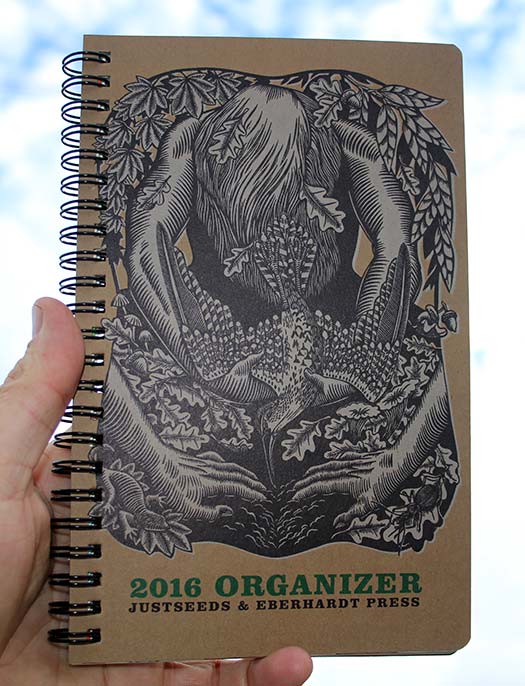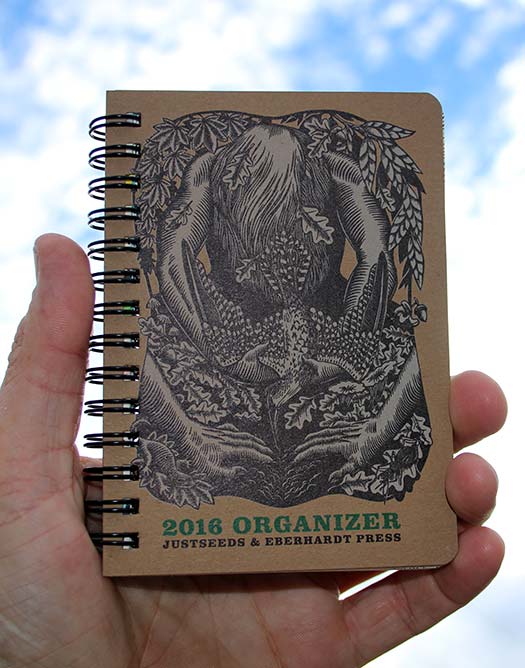 $17.95 | Pocket Size $13.95 
This year's edition is available as a pocket-size datebook or a 5″ x 8″ planner datebook. Featuring the socially-conscious artwork of the Justseeds Artists' Cooperative.
---
Spiral Bound $17.95 | Pocket Size $10.00 
With radical dates for every day of the year, space to write your phone numbers, a contact list of radical groups around the globe, menstrual calendar, info on police repression, extra note pages, plus much more. Choose from 15 cover colors printed with either black or silver ink.
---
Wes Side Story a Memoir, Dead Rock Stars, Cherry Blossoms
by Wes Funk
$19.95 
We were unfortunate to unexpectedly lose one of the Saskatchewan literary community's most ardent supporters and beautiful human being this October. Wes Funk hosted the Shaw TV show Lit Happens, and authored four books as well as being an active member of the Saskatchewan Writers Guild and Saskatoon Writers Coop. His work is undeniably local; marked with familiar Saskatoon and small prairie town flavor that dwellers will recognize, composed with refreshing insight and a deeply personal perspective. 
---
Titles by Local Authors
We have a vast and rich local talent pool to tap into: Fiction, non-Fiction, poetry, and cookbooks. Read from the minds of the people you meet as you are walking down the street; Paul Hanley, Dawn Dumont, Dan Danielson, Cliff Burns, Yann Martel, Sally Meadows, Donna Miller, Thodora Agyeman-Anane, Michael Cuthburtson, and more.
---
Corvus 
by Harold Johnson 
$19.95
Taking its title from the Latin name for the Trickster bird of First Nations, Norse, and Christian mythologies, Corvus examines the illusions of security we build through technology and presents a scathing satire of a world caught up in climate change denial and the glorification of war.
---
$34.00  $27.20 (20% Off)
Imagining a world where citizens take turns as prisoners and jailers, the prophetic Margaret Atwood delivers a hilarious yet harrowing tale about liberty, power, and the irrepressibility of the human appetite.
more Margaret Atwood also in stock: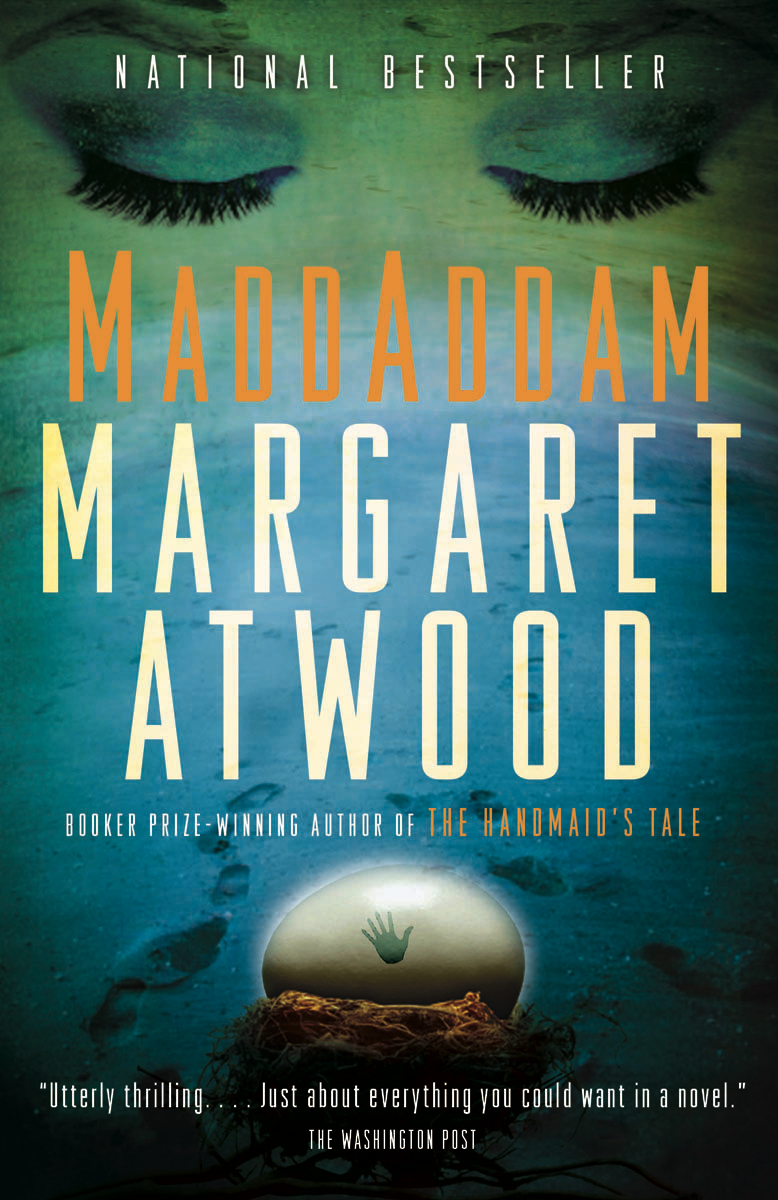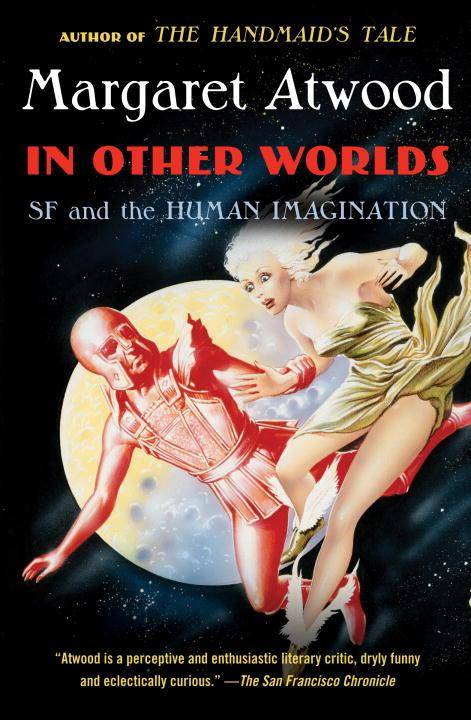 ---
$22.00
Forget everything you think you know about global warming. The really inconvenient truth is that it's not about carbon—it's about capitalism. The convenient truth is that we can seize this existential crisis to transform our failed economic system and build something radically better.
In her most provocative book yet, Naomi Klein, author of the global bestsellers The Shock Doctrine and No Logo, tackles the most profound threat humanity has ever faced: the war our economic model is waging against life on earth.
"The most momentous and contentious environmental book since "Silent Spring""
– The New York Times

---
$27.95  $22.36 (20% Off)
In these inspiring letters to his grandchildren, David Suzuki speaks passionately about their future. He challenges them to speak out and act on their beliefs, explains why sports are important, decries the lack of elders and grandparents in the lives of many people, especially immigrants, and champions the importance of heroes.
---
After the Sands: Energy and Ecological Security for Canadians
by Gordon Laxer
$24.95
Hailed as "a myth-destroying blockbuster book" by Ralph Nader, After the Sands outlines a vision and road map to transition Canada to a low- carbon society: a plan lacking within all of Canada's major political parties.
After the Sands sets out a bold strategy using deep conservation and a Canada-first perspective. The goal: to end oil and natural gas exports and ensure that all Canadians get sufficient energy at affordable prices in a carbon-constrained future.
---
Indigenous Nationhood: Empowering Grassroots Citizens
by Pamela Palmater
$19.95
Fiercely anti-racist and anti-colonial, this book is intended to help rebuild the connections between Indigenous citizens and their home communities, local governments and Indigenous Nations for the benefit of future generations.
---
 
The Reason You Walk
by Wab Kinew
$32.00
A moving father-son reconciliation told by a charismatic First Nations broadcaster, musician and activist.

When his father was given a diagnosis of terminal cancer, Winnipeg broadcaster and musician Wab Kinew decided to spend a year reconnecting with the accomplished but distant aboriginal man who'd raised him. The Reason You Walk spans the year 2012, chronicling painful moments in the past and celebrating renewed hopes and dreams for the future.
Invoking hope, healing and forgiveness, The Reason You Walk is a poignant story of a towering but damaged father and his son as they embark on a journey to repair their family bond. By turns lighthearted and solemn, Kinew gives us an inspiring vision for family and cross-cultural reconciliation, and a wider conversation about the future of aboriginal peoples.
---
On Being Here to Stay: Treaties and Aboriginal Rights in Canada
by Michael Asch
$24.95 
What, other than numbers and power, justifies Canada's assertion of sovereignty and jurisdiction over the country's vast territory? Why should Canada's original inhabitants have to ask for rights to what was their land when non-Aboriginal people first arrived? The question lurks behind every court judgment on Indigenous rights, every demand that treaty obligations be fulfilled, and every land-claims negotiation.
---
Introduction Guides
$13.95 – $17.95
Easy-read introductions to hot topics: Climate Change, Democracy, United Nations, Green Politics, Global Finance, Fair Trade, Human Rights and more. 
---
Step Aside Pops!
by Kate Beaton
$24.95
Ida B. Wells, the Black Prince, and Benito Juárez burst off the pages of Step Aside, Pops: A Hark! A Vagrant Collection, armed with modern-sounding quips and amusingly on-point repartee . Kate Beaton's second D+Q book brings her hysterically funny gaze to bear on these and even more historical, literary, and contemporary figures. Irreverently funny and carefully researched, no target is safe from Beaton's incisive wit in these satirical strips.
---
The Permaculture City
by Toby Hemenway
$34.95
The Permaculture City provides a new way of thinking about urban living, with practical examples for creating abundant food, energy security, close-knit communities, local and meaningful livelihoods, and sustainable policies in our cities and towns. The same nature-based approach that works so beautifully for growing food—connecting the pieces of the landscape together in harmonious ways—applies perfectly to many of our other needs. Toby Hemenway, one of the leading practitioners and teachers of permaculture design, illuminates a new way forward through examples of edge-pushing innovations, along with a deeply holistic conceptual framework for our cities, towns, and suburbs.
---
How-To books
$11.95 – $15.95
How-to convince your judgmental family you aren't an insufferable gen-X failure before the holidays arrive? Quickly learn a mad skill and impress them with your kitchy know-how! Or stroke the ego of your hipster friend  who wants to up their  "trendy", "granola", or "crafty" game and gift them one of these adorable how-to books – yay!
---
Eat Like You Give a F*ck  &   Party Grub
by Thug Kitchen
Eat Like You Give a F*ck $31.95
Party Grub $29.99
Eat Like You Give a F*ck Debuted as a #1 New York Times Best Seller and remained on the list into Summer 2015. This book delivers more than 100 recipes of Thug Kitchen's favorite meals, snacks, and sides for beginning cooks to home chefs. Roasted Beer and Cauliflour Tacos? Grilled Peach salad? You bet your sweet a**. Plus Thug Kitchen arms you with all the info and techniques you need to shop on a budget. 
Y'all know what kicks as much a** as the first Thug Kitchen book? The second one. Thug Kitchen: Party Grub is full of more than 100 never-before-seen recipes for any occasion: birthdays, holidays, block parties, pajama parties, Mario parties, whatthef*ckever.
These books are an invitation to everyone who wants to do better to elevate their kitchen game. No more ketchup and pizza counting as vegetables. No more avoiding the produce corner of the supermarket. Sh*t is about to get real.
---
NOPI
by Yotam Ottolenghi and Ramael Scully
$45.00
Over 120 brand-new recipes from Yotam Ottolenghi's acclaimed restaurant. Yotam and Scully's pantries come together so that sumac meets star anise, miso meets molasses and pandan meets pomegranate. The resulting dishes shine brightly. Whether you're a regular at the NOPI restaurant and want to know the secret to your favourite dish – the baked blue cheesecake, the beef brisket, the twice cooked baby chicken – or are an Ottolenghi fan who wants to see how it's done in the restaurant kitchen, this is a collection of recipes which will inspire and delight in a beautifully bound hardcover with gilded edges. 
more Ottolenghi also in stock:
---
Super Fresh
by Jennifer Houston & Ruth Tal
$29.99 
Ruth Tal and chef Jennifer Houston have been using whole, natural ingredients to create craveable and vibrant vegan meals, juices, and smoothies for almost two decades. In Super Fresh, Ruth and Jennifer share over 200 delicious and energizing plant-based recipes that are bursting with natural flavours and pure goodness. We all need food to fuel our bodies, so why not cook with natural ingredients with a high nutritional value?
---
$9.99
A is for Activist is an ABC board book written and illustrated for the next generation of progressives: families who want their kids to grow up in a space that is unapologetic about activism, environmental justice, civil rights, LGBTQ rights, and everything else that activists believe in and fight for.
---
Star Wars – Darth Vader series
by Jeffrey Brown
$19.95
Eisner Award-winning author Jeffrey Brown's charming illustrations and humor irresistibly combine the adventures of our friends in a galaxy far, far away with an intimate look at the friendships between best pals of our favorite Star Wars characters in Darth Vader and Friends. What if "Luke, I am your father" was just a stern admonishment from an annoyed dad? How does the Lord and leader of the Galactic Empire face the trials, joys, and mood swings of raising his daughter Leia as she grows from a sweet little girl into a rebellious teenager? Darth Vader and Son, and Vader's Little Princess re-imagine Darth Vader as a dad like any other-except with all the baggage of being the Dark Lord of the Sith. Jealousy, birthday parties, lightsaber battles, sharing, intergalactic rebellion and more all come into play in these funny and sweet books in the bestselling Darth Vader series. 
---
Banksy in New York
by Ray Mock
$39.95 
Photographer Ray Mock takes you along on his exciting hunt for new Banksy work during the famous Better Out Than In project in his new book Banksy in New York. This personal narrative offers a day-by-day account of Banksy s first New York residency, chronicling works that include Sirens of the Lambs and the Central Park stand at which original works by Banksy were sold for only $60. Mock s work captures not only Banksy s artwork but the reactions of the public and media frenzies that often accompanied it, giving fans a direct window into the frenetic scavenger hunt that took over New York City in October 2013. This book is a must-have for those new to the scene and Banksy fanatics alike.
more Banksy in stock:
---
Can't decide? Turning the Tide has Gift Certificates in any denomination!
---
Holiday Store Hours:
Mon – Wed  – 10am to 6pm
Thurs – Sat  – 10am to 8pm
Thurs, December 24 – 10am to 4pm 
Fri, December 25 – Closed
Sat, December 26 – Closed 
Thurs, December 31 – 10am to 4pm 
Fri, January 1 – Closed
Sat, January 2 – Closed for Inventory
Contact us if you have any questions
Thanks for reading and all the best to you this holiday season!